Business and Investment Visas: Migration to Australia
We regularly receive inquiries from individuals seeking to move themselves and their families to Australia. Assessing which visa is the most appropriate can be quite very complex, as illustrated by the flow chart below which covers both Business and Investment visas. We strongly recommend the involvement of either migration agents or solicitors in the process and we can provide supporting advice with respect to taxation and investments. Note that no separate Retirement visas currently exist.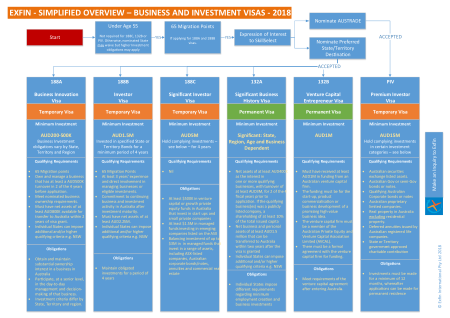 BUSINESS INNOVATION AND INVESTMENT (Provisional) VISAS
(subclass 188)
The subclass 188 visa currently has three different streams - informally referred to as 188A, 188B and 188C.
188A – Business Innovation Visa
Applicants for the subclass 188A visa will need to meet the following requirements to apply:
Possess assets with net value of at least AUD800K
Under age 55, unless waived by state/territory
Score at least 65 Migration points in the points test
Own and manage a business that has at least AUD500K turnover in 2 out of 4 years before the application
Meet nominated business ownership requirements

188B – Investor Visa
The following requirements apply to a subclass 188B visa application:
Make an investment of AUD1.5M in treasury bonds
Under age 55, unless waived by state/territory
Score at least 65 Migration points
At least 3 years' experience of direct involvement in managing business/eligible investments
Show net business/investment and personal assets of at least AUD2.25M
188C – Significant Investor Visa
Also known as the Significant Investor Visa (SIV), applicants will need to invest at least A$5 million in complying significant investments, which are defined to be:
At least AUD500K in venture capital or growth private equity funds
At least AUD1.5M in managed funds or Listed Investment Companies
Balance investment of up to AUD3M in managed funds or Listed Investment Companies that invests in a combination of "eligible assets"

Premium Investor Visa
The Premium Investor Visa (PIV) requires an investment of at least A$15M and is strictly by invitation of Austrade only. This is a temporary visa which may be converted to a Permanent visa after 12 months.
From Temporary to Permanent – Applying for the subclass 888 visa
The subclass 188 visas above grant temporary residence status to all applicants. Upon fulfilling the visa conditions, applicants can then apply for the subclass 888 visa to obtain Australian permanent residence. Obtaining your permanent residence will allow you to access social benefits such as Medicare, domestic school fees and no restrictions on real estate purchases and investments.
BUSINESS TALENT (Permanent) VISA
(subclass 132)
The subclass 132 Business Talent visa is a permanent visa application. You will obtain Australian permanent residency immediately once the application is approved. Currently there are two streams in for the subclass 132 visa.
132A - Significant Business History Stream
You will need to make an investment of at least A$1.5M in Australia
Net business assets of at least AUD400K prior to application
Annual turnover of at least AUD3M in 2 out of 4 years before application
Meet business ownership percentage requirements, and
Under age 55 unless waived by State/Territory
132B - Venture Capital Entrepreneur Stream
Receive AUD1M funding from an Australian venture capital firm
Meet requirements of your venture capital agreement after entering Australia
As mentioned, the information provided is a summary of requirements and a detailed assessment is required before deciding on the most suitable visa. We provide access to a specialist law firm, which is also a Registered Migration Agent, in the Inquiry Form below and can also provide access to specialist tax and financial planning advice where needed. You can expect a prompt response to any inquiry and a fee quotation in advance of any advice or services being provided.